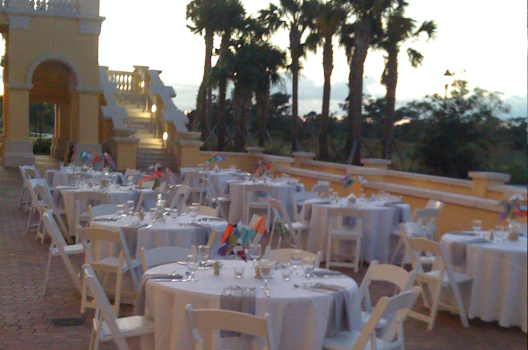 The Spanish River Library & Community Center, with its breathtaking lakeside setting, has hosted dozens of weddings, meetings, receptions, parties, and other special events since it opened in January 2008. Rooms are reserved on a first-reserved, first-served basis. Room arrangements are flexible.
LAKESIDE PATIO
The Lakeside Patio offers a gorgeous view of the lake and the flexibility and interest of multi-level seating.
ROOFTOP TERRACE
The Rooftop Terrace offers yet another spectacular view of the lake for both day and evening events, along with convenient access to the Lakeside Patio, the Changing Room, and Catering Prep area.
MEZZANINE
The Mezzanine is a large open indoor space on the second floor which overlooks the Library. There is a beautiful view of the lake through the tall arched windows on the first floor.