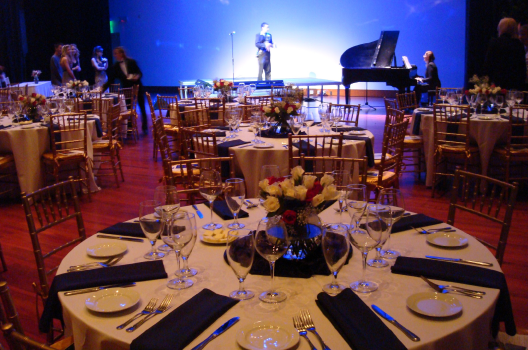 Located right in the heart of Midtown Palm Beach Gardens, surrounded by trendy shops and restaurants, this gathering place is the perfect setting to cultivate unforgettable memories! Imagine your guests watching in awe as you descend a winding staircase to finally join the man of your dreams. The light catches the detailing in your gown and the glimmer on your cheek as you take his hand for the first time, joined together as man and wife. After exchanging, those two little words…"I Do"; applause erupts and the rush of adrenaline carries into the next phase of the rest of your life…the party! A rich future full of memories awaits you after an evening of supportive friends and family, great music and a plethora of fabulous food. The Borland Center is the newest multi-use facility in Palm Beach Gardens and the only free standing venue in the area capable of hosting ceremonies and receptions, and an extensive array of other special events, for up to 500 people. With more than 50,000 square feet, its clean lines, elegant décor, multiple spaces and selection of amenities attest to its versatility and its ability to transform into the idyllic place to suit your every desire. THE THEATRE LOBBY
Located on the ground floor, this event space can hold up to 200 people.
A winding staircase leads down to the theater lobby, in front of a host of grand windows.
An open coffee bar café is located in the southeast corner of the lobby, and has the ability to be transformed into anything your special event might need.
A beautiful courtyard is just outside waiting to welcome your guests with a cool breeze and twinkling lights.
THE THEATRE
This Black Box Style Theatre is capable of hosting 500 people.
Retractable seating in this space opens the floor to allow approximately 180 guests for a reception or another special event.
Included are a built-in large projection screen, projector, audio/visual, special theatre lighting and a weave wall installation (can be covered if it does not suit your event).
BALLROOM
The Ballroom consists of Suites 1, 2 and 3. Each suite can be used as separate event spaces, or they can be opened to provide one large event space capable of seating 500.
A 2,000ft prefunction space overlooking the beautiful midtown square provides the perfect setting for a pre-dinner cocktail reception, auction or
Suite 1 & 3
With 1500ft of space, Suites 1 & 3 are identical spaces with a 100-person capacity.
Perfect for smaller gatherings, corporate meetings and intimate wedding ceremonies.
Suite 2
Through a set of double doors, Suite 2 can hold approximately 300 people.
A dance floor, stage, and projector and screen are included with this space. Special lighting can be rented.
Aaron's Catering of the Palm Beaches creates customized packages with a complete array of services, including menus, photography, entertainment, décor and more for every occasion. The Borland Center is a remarkable setting waiting just for you to plan your special event. Let's start creating memories!! For more information and to begin planning a spectacular event, contact Julie Larson at 561.792.9292