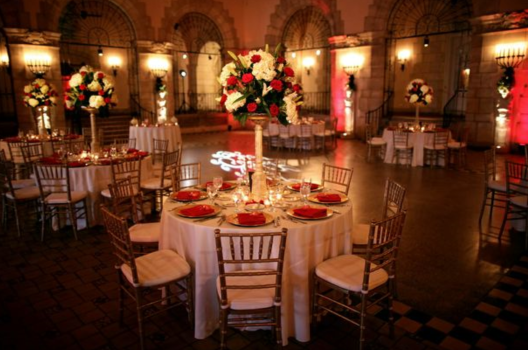 Whether for a gala sunset reception, or an intimate gathering surrounded by Gilded Age magnificence, the Flagler Museum offers a variety of wedding reception options. In our quest to maintain Henry Flagler's legacy of extraordinary service, your location desires will be met perfectly and effortlessly with the elegant and timeless Whitehall Mansion.
Whitehall offers a variety of grand spaces each brimming with breathtaking 19th century splendor and enduring architectural details. Spectacular marble floors, breathtaking artistically painted ceilings, and ornamental crystal chandeliers impart a classic atmosphere. There are unique event spaces, including the Grand Hall with its majestic double staircase, the West Room with its vaulting 27ft. ceilings, and the new Flagler Kenan Pavilion with its panoramic water views.
The Flagler is the picture-perfect venue full of romance, class, and poise. The ornate wrot iron entry gate lends itself magnificently to bridal party pictures while the Pavilion adds a sophisticated dichotomy between old world formality with its immense ornamental pillars juxtaposed by whimsical accouterments such as its fully restored 1800's sleeper railcar. Henry Morrison Flagler's lavish sprawling estate has become an idyllic matromonious dreamland for couples who seek stylish sophisticated formality. Your guests will be amazed by the venues personality and character as ornate statuettes and sculptures swim in between the gold leaf and elaborate woodwork. Add Aaron's Catering gourmet culinary trends, flawless floral centerpieces and theme perfect décor and you have a wedding grander than royalty could hope for. Just what you are (and deserve) on your special day!