Make your Event Memories Last Longer with Aaron's Catering of the Palm Beaches!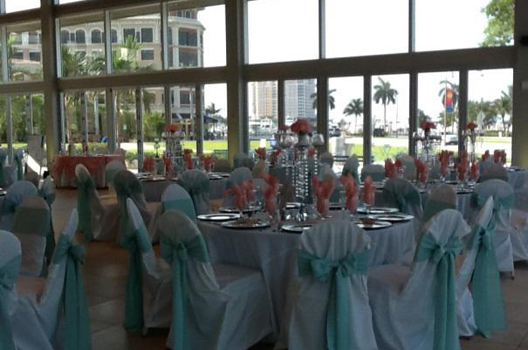 Situated right on the edge of downtown West Palm Beach, the Lake Pavilion showcases a clear view of the City's waterfront and Palm Beach Island beyond. With enormous floor to ceiling windows spanning three sides of this magnificent venue, you will not find comparable views of the skyline and shoreline anywhere else in Palm Beach County.
Arrive on sight as the sun begins to set. A myriad of colors swirl in the sky and reflect off of the beautiful windows, filling the space with elegant and alluring light. Enjoy cocktails and delectable hors d'oeuvres outside on the veranda, as sweet and savory aromas mix with the cool ocean breeze to provide the perfect atmosphere of harmony and bliss. The sunset fades into a midnight blue sky, as your guests meander inside. Excited squeals of joy and laughter fill the air while your guests dine and dance under sparkling stars and moonlight.
Be it a charity gala complete with a silent auction, holiday party, corporate event, 50th birthday extravaganza, wedding reception or bar mitzvah, the Lake Pavilion has no limitations.
Accommodations are as follows:
2,950ft indoor space with a capacity of 175 persons seated for lunch and dinner or 275 persons seated auditorium style.
The floor to ceiling window walls can be folded back to open onto the terrace and deck, opening the space to 6,250ft.
With the rental of the Lake Pavilion, the following set up equipment is included 200 Banquet Chairs, (20) 60" round tables, (12) 8' banquet tables.
Risers and specialty tables are additional.
Aaron's Catering of the Palm Beaches creates customized packages with a complete array of services, including menus, photography, entertainment, décor and more for every occasion. The Lake Pavilion is an impressive setting, sure to be the perfect place for creating abundant memories that will last long after your special event is through!