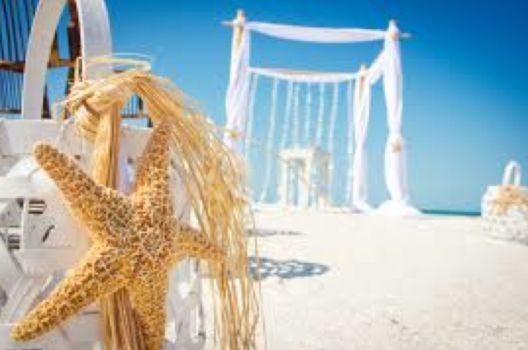 The Magical Experience
You and your friends and family have been planning this day for an entire year. It began with the selection of a breathtaking seaside setting from our beach venues. You wake up and take a deep breath; IT'S YOUR WEDDING DAY! Walk out onto the balcony of your bridal suite and breathe in the salty air. You couldn't have asked for better weather. The sun is shining and there isn't a cloud to be seen. It's a perfect beach day— or beach Wedding day, that is! Your bridesmaids are on their way to the bridal suite in our LOVESTREAM BRIDAL LOUNGE to share in the splendor of the Wedding jitters with their best friend. As you get pampered (hair and makeup fit for a princess) and slip into the dress you've been dreaming about since you were a little girl, emotions overwhelm you.
The Breathtaking Sun & Sea
The ceremony is being set by our staff and décor specialists, complete with a burlap isle runner and coral flower petals scatted throughout and used to create your (new) monogram at the end of the isle. Mason jars filled with baby's breath and coral peonies are suspended from the isle way chairs with starfish and beautiful burlap bows. White folding chairs are placed on either side of the isle in a half moon shape, ensuring every guest can capture your beauty as you take your first step toward your husband-to-be. It is exactly what you had envisioned— simple, breathtaking, and a twist on the popular beach wedding.
"I do!"
Your guests start to trickle in filling the seats and awaiting a ceremony of love. The bridal party kisses you and begins to walk down the isle. Your father puts his arm around yours and the crowd turns in complete awe. You look at the look on your fiancé's face as you walk towards him. The Wedding Ceremony is filled with love and laughter. The vows are one of a kind, showing the love you have for each other. Finally, the words you have been waiting for "I now pronounce you husband and wife." You lean in to give your HUSBAND a gigantic smooch. The beach setting is ideal for pictures as the sun beings to set and the ocean turns to glass. An Oceanside Celebration Now, it's party time. Your guests have enjoyed cocktail hour on the ocean terrace complete with tropical cocktails (with umbrellas, of course) and your signature "Ocean Breeze" welcome drink. You are ready for your grand entrance as a couple. Your beautiful, dress perfect for a toes-in-the-sand beach Wedding, transforms itself in the venue overlooking the ocean. The room is filled with color and artifacts from the ocean—with hints of coral, mint, and sand. The centerpieces of alternating levels and sizes are filled with sand and a mixture of peonies, baby's breath, and hydrangea with a burlap runner over the organza mint linen. The room is breathtaking. You, however, have stolen the spotlight. You dance the night away with your closest friends and family—not to mention your new husband.
A Sweet Life
Your grand exit is like no other. Sparklers create an isle way on the beach for you and your husband as you bid farewell to your guests and head towards your getaway (car) yacht! Today has been the best day of your life. You had the beach wedding of your dreams and married your one and only. Congratulations and thank you for letting Aaron's be a part of the planning and coordination every step of the way! Now, on to the honeymoon!