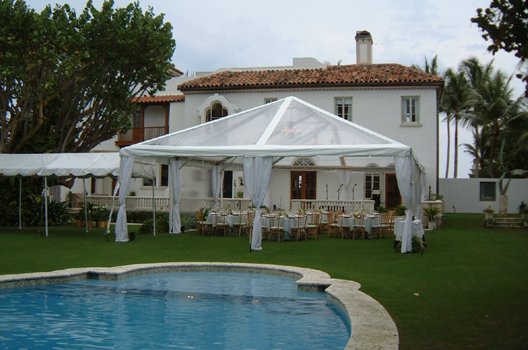 LIFECYCLE EVENTS
All events are special for us—each is a customized experience. We have shared important moments in the lives of our clients. We have produced hundreds of Life Cycle Events: Showers, Birthday bashes, Graduation parties, Anniversary celebrations, and Funeral/memorial gatherings. Since Aaron's Catering is a full service catering company, we can coordinate all the aspects of your event. We are one of the largest catering companies in the Palm Beaches and South Florida which allows us almost unlimited flexibility in our ability to customize every event in order to satisfy our clients particular style, taste and budget. Our cuisine ranges from ethnic international to family recipes to popular menus. We have the ability and resources that allow us to operate self-sufficiently without relying on outside vendors or subcontractors and produce multiple award-worthy events simultaneously.
IN YOUR HOME OR OUR VENUES
Our extensive warehouse is meticulously organized with china, glassware, flatware, linens, mobile bars, décor, audio visual equipment, special event lighting, mobile cooking equipment, staff uniforms, generators and more. Aaron's fleet of vehicles include, box trucks, trailers and vans which are capable of transporting entire events to and from any location or venue throughout South Florida. Our full time warehouse staff makes sure that every item is clean and carefully packed on vehicles according to the Banquet Event Orders and Pull Sheets. Cleaning supplies are always included so we are sure to leave any venue, location or home cleaner than when we arrived.
STAFF TEAMS YOU CAN TRUST
The catering team consists of professional bartenders, servers, captains, bar-backs, managers, utility people, bussers, cooks and chefs. We have full time staff as well as a pool of over 100 qualified professional staff who have worked with our company for many years on a part-time basis. We are able to produce events in the middle of a polo field in Wellington Florida, in a historical museum in Palm Beach or in a client's home or office from Jupiter to Boca Raton to name a few. Garages of homes are often used as temporary kitchens as we lay down plastic tarps and roll in portable ovens to set up a sanitary and functional environment to serve your guests. Our talented team can assemble temporary flooring and erect a tent to serve as a temporary kitchen as well. If it's an intimate dinner party in your home, we can even prepare and cook in your kitchen as your guests observe the action.
THE SOCIETY LEVEL EVENT
We specialize in gala production, holiday festivities and non-profit events from Palm Beach Island to Wellington and Boca. We can help you find the perfect venue to throw your fabulous gala with the most prestigious guest list the town has ever seen. We can design, plan, organize and execute your event from top to bottom: from the invitations, décor and theme, to the silent and live auctions. Let us help you create a gala that the society press is buzzing about and tickets are flying out the door.
We are experts in off-premise event production. We follow strict timelines and location rules and guidelines in order to set up on time and break down on time. Typically we allow three hours to set up an event and one hour to break down and clean up depending on the scope and complexity of the event. Aaron's Catering has set up multi-day events for thousands of attendees encompassing on-line ticketing, tenting, flooring, stages, audio visual needs, and power requirements. There is no job too big or too small in any place too challenging or remote that we cannot set up a spectacular event. Please call or email for a customized proposal and to discuss your options. We look forward to serving you!