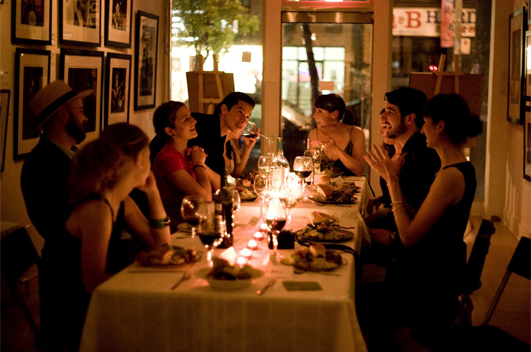 Have Aaron's Catering prepare your next dinner party! Bring home our famous service, style and cuisine. We want you to enjoy the time you have with your friends and family. That's where we come in. It's not fair to be slaving over the stove and missing quality time with your guests. Let us cater to you—it is our job after all!
We can extend your party to include a reception around the pool or a glowing tent in your back yard. Aaron's can come and set-up-shop in your kitchen, just as if it were our own. If you would like to use your kitchen for entertaining purposes, no problem! We take things into our own hands and bring our portable kitchen with us.
Tell us your favorite restaurant, or dish Grandma Susie made for you as a child. Our renowned chefs can create anything your heart could desire, and your taste buds could require. What could be more festive for Thanksgiving, Christmas, or the 4th of July than the warmth and hospitality of your home? Celebrate that birthday, anniversary or new house-warming with the gift of fabulous food with good friends.
We offer everything from the décor, centerpieces, and food delicacies —to the bar and professional staffing. We take care of it all to ensure you don't have to. From an elegant candle-lit feast or wine-tasting expertly paired with tapas to a fun filled evening of cocktails and dancing, let Aaron's Catering transform your home into something magical.